You know how when you go to a nice Italian restaurant and you order some thing simple like spaghetti and meat sauce and it just tastes SO much better than it does at home?
Well, it's not just the that makes the pasta, but the NOODLES too! The time I ever had fresh pasta it was a game changer for me. Whenever I crave pasta now there is no way I can make it from the store bought noodles.
Good news is learning how to make homemade pasta is REALLY easy!!
This post contains affiliate links, but all opinions are my own. Read more here.
Here's a step by step of how to make homemade pasta:
The noodle recipe I used for this tutorial are from the book "Mastering Pasta" by Marc Vetri which you can buy on Amazon here.
Start out by combining your flours in a stand mixer and slowly adding the eggs, oil and water until the mixture just comes together and forms a rough ball.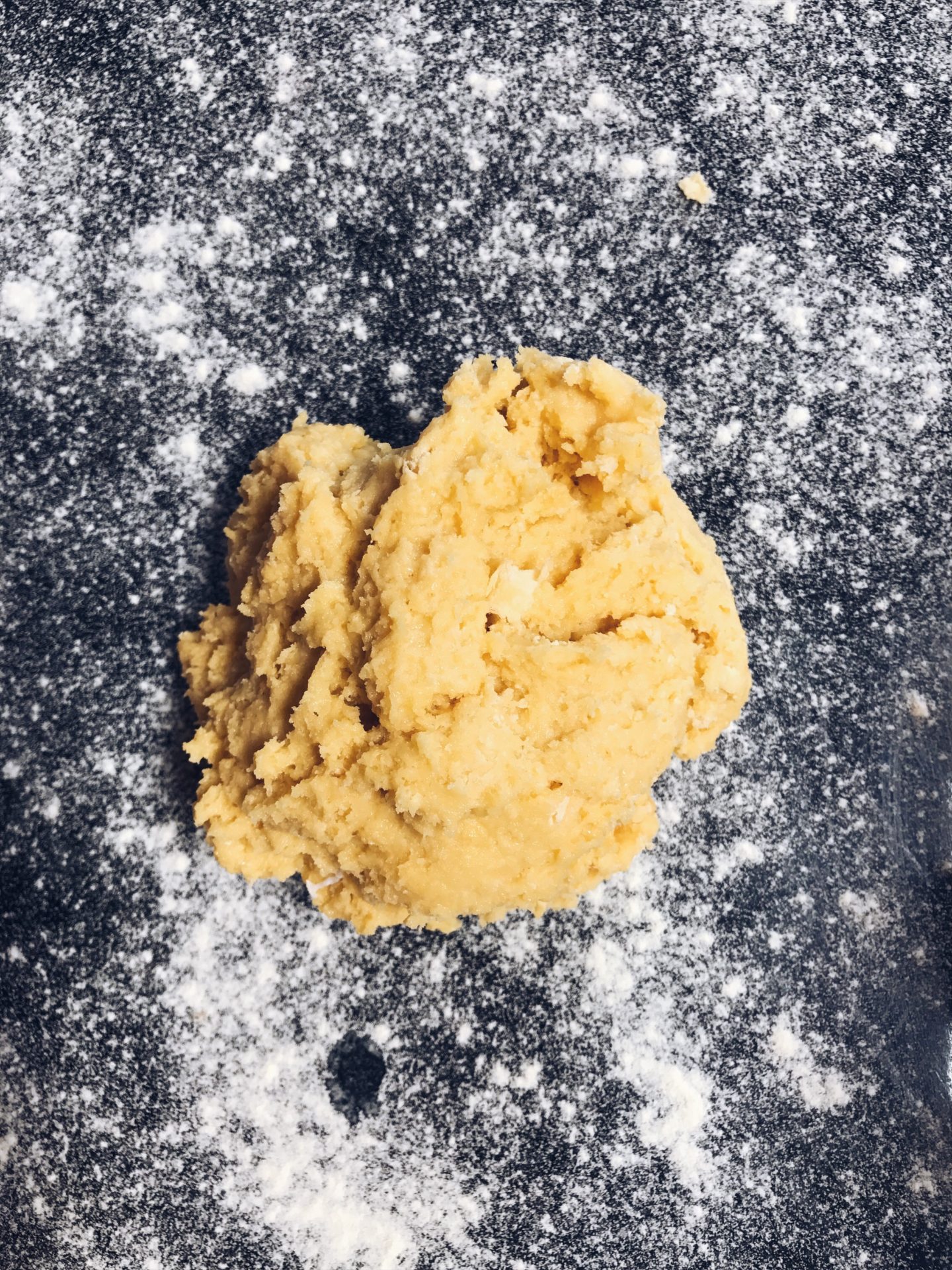 Next, turn your dough out on a floured work surface and knead until you reach a silky texture. This part is so fun and only takes a few minutes!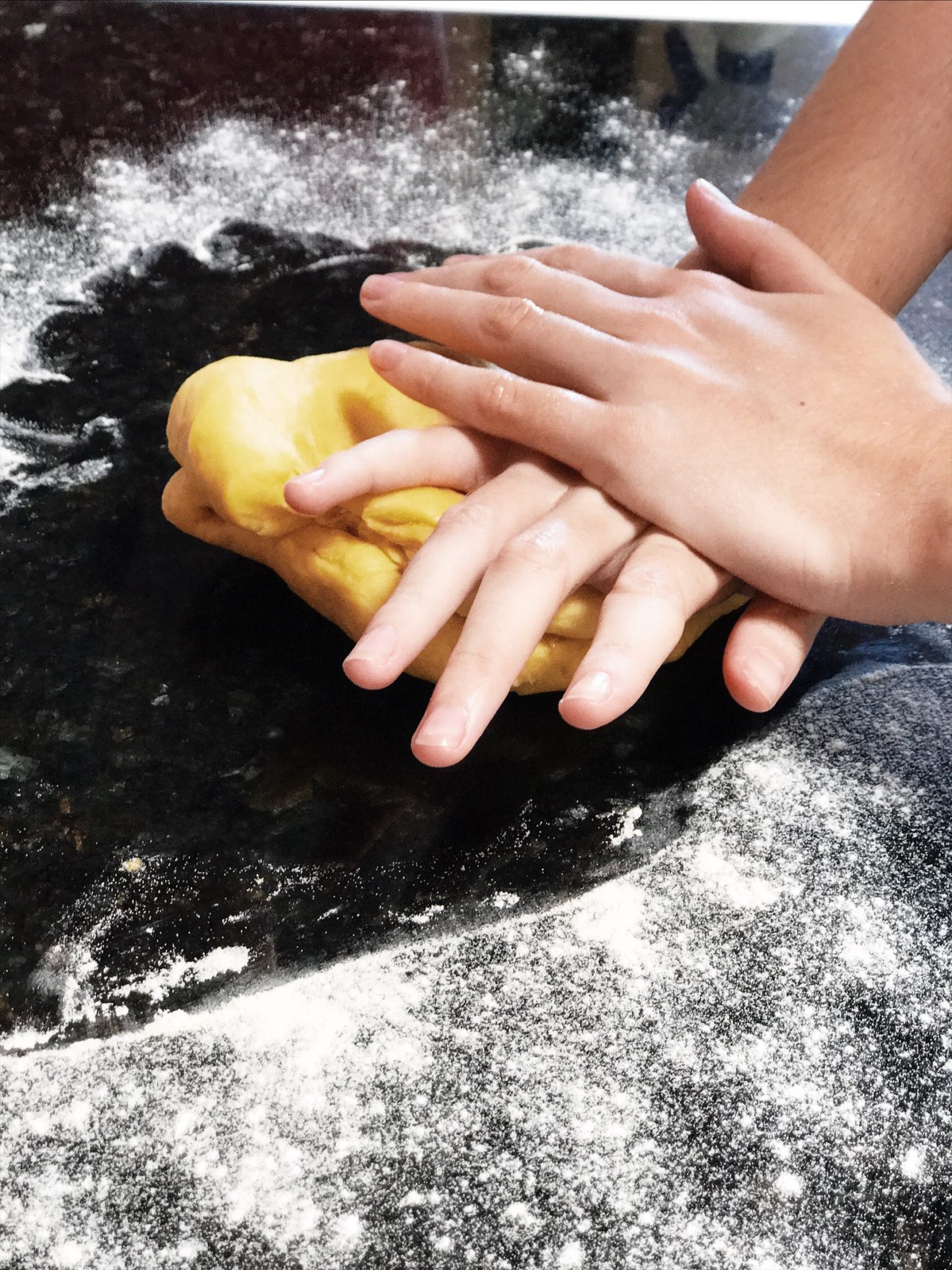 Once your dough is the right consistency, cover the dough in plastic for about 15 minutes. This let's the gluten relax and will make it easier to roll out the dough.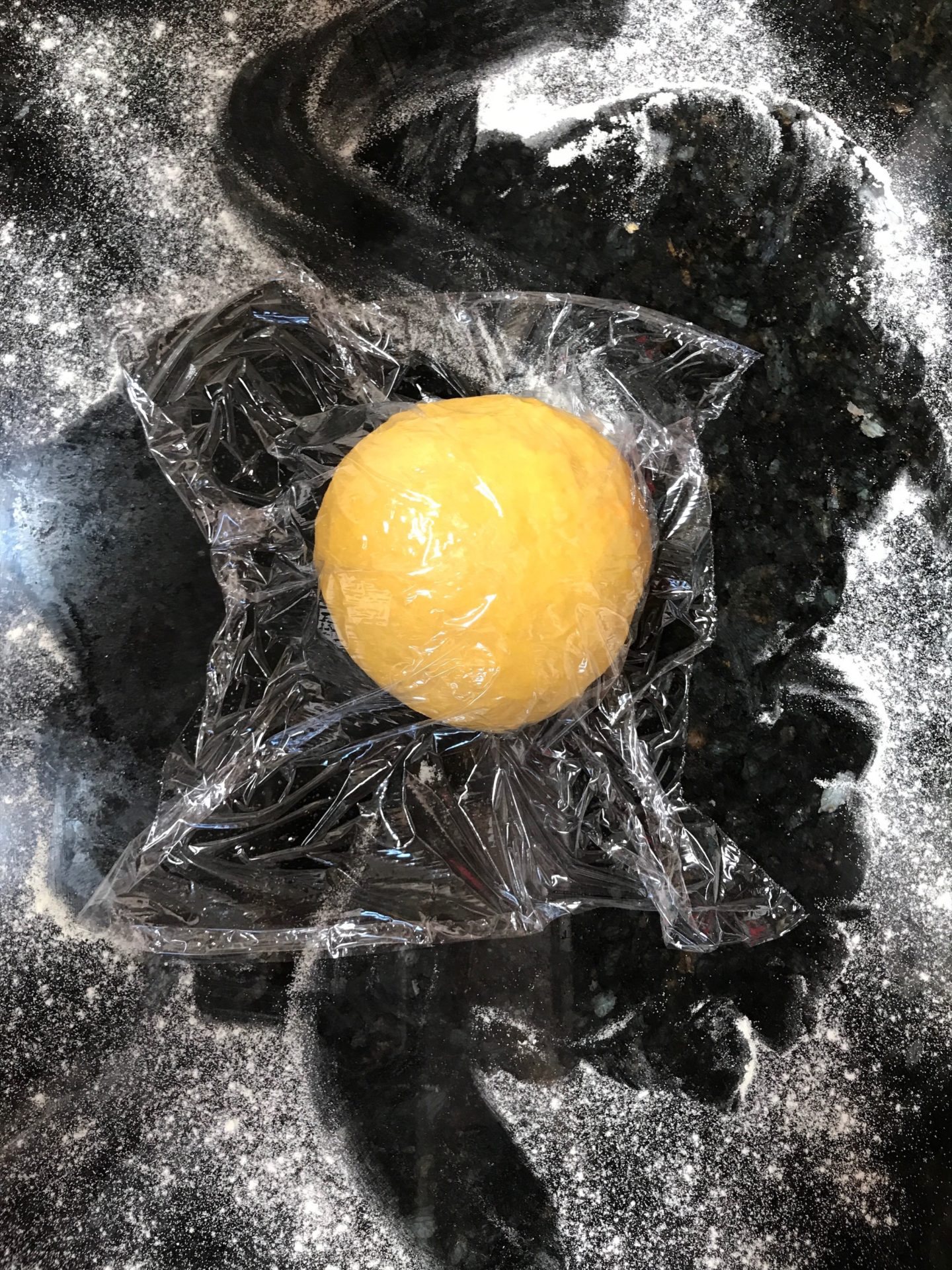 Next, divide the dough into 4 pieces. Take one pieces of the dough and leave the rest under the wrap so the dough doesn't dry out or form a skin.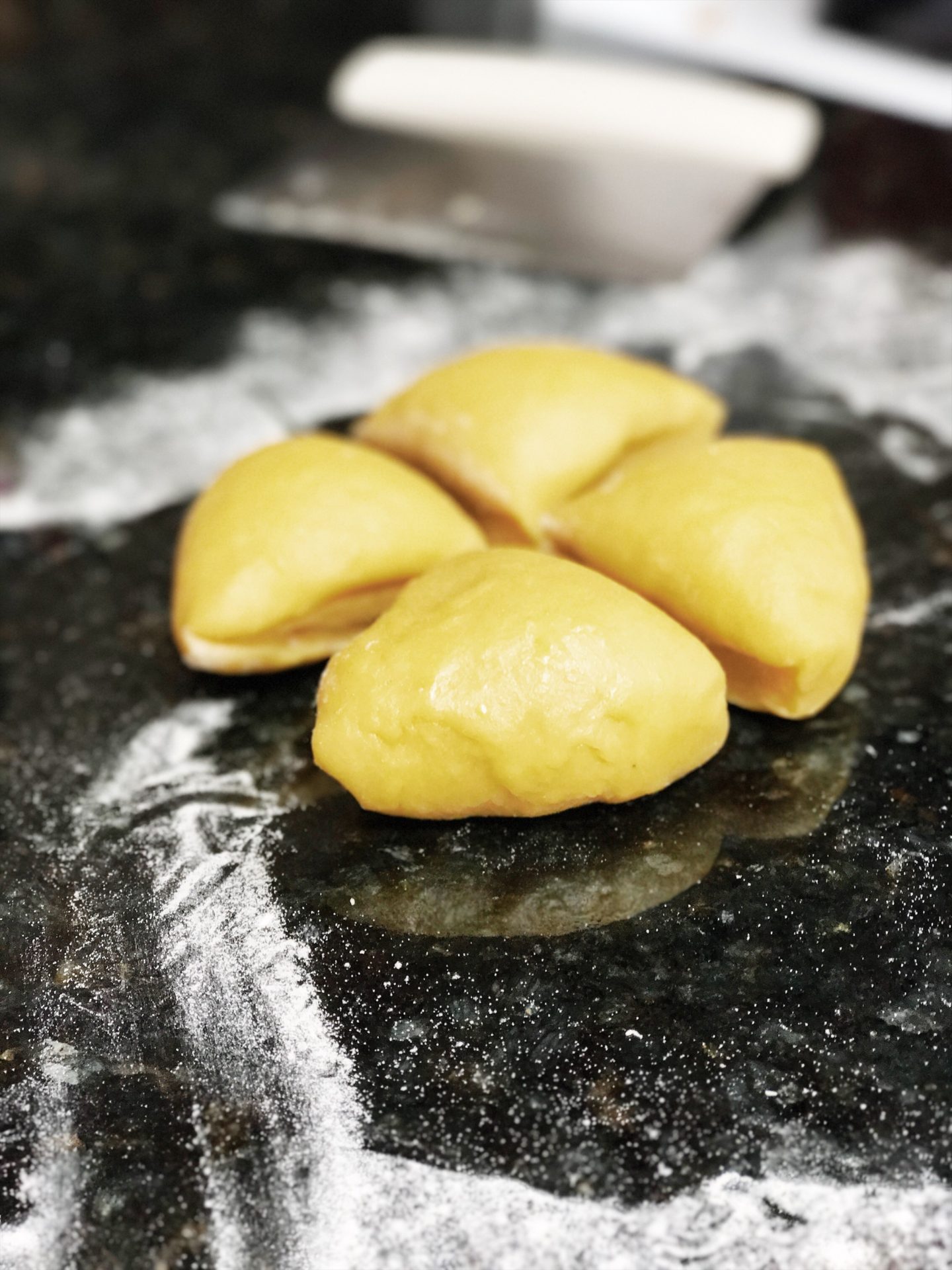 For the next few steps, I'll be using my Kitchen aid pasta attachment which you can buy here, but you can also use a hand crank machine or just a plain old rolling pin!
(NOTE: when using machines, make your that your dough is not too sticky and is well dusted with flour or it will rip and get stuck in the rollers. Just trust me. Its not fun)
Flatten your dough into a rectangle and put through on the largest setting of the flat roller attachment. Fold the dough into a rectangle again and run through the machine one more time on the highest setting to make sure it's ready.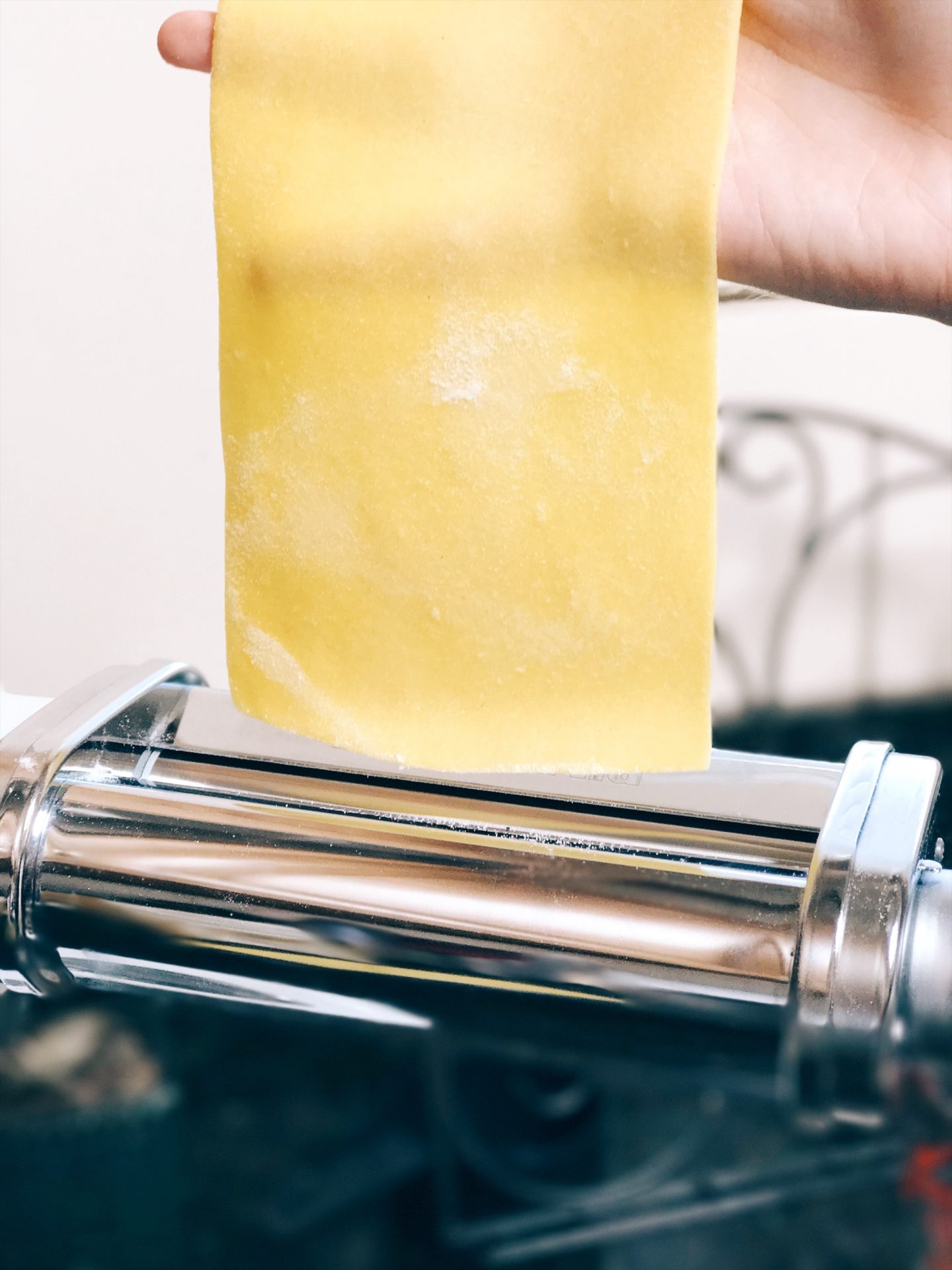 Slowly continue to pull the dough through the machine, turning down your dial each time until it's the desired thickness. I usually go to a 7 on mine.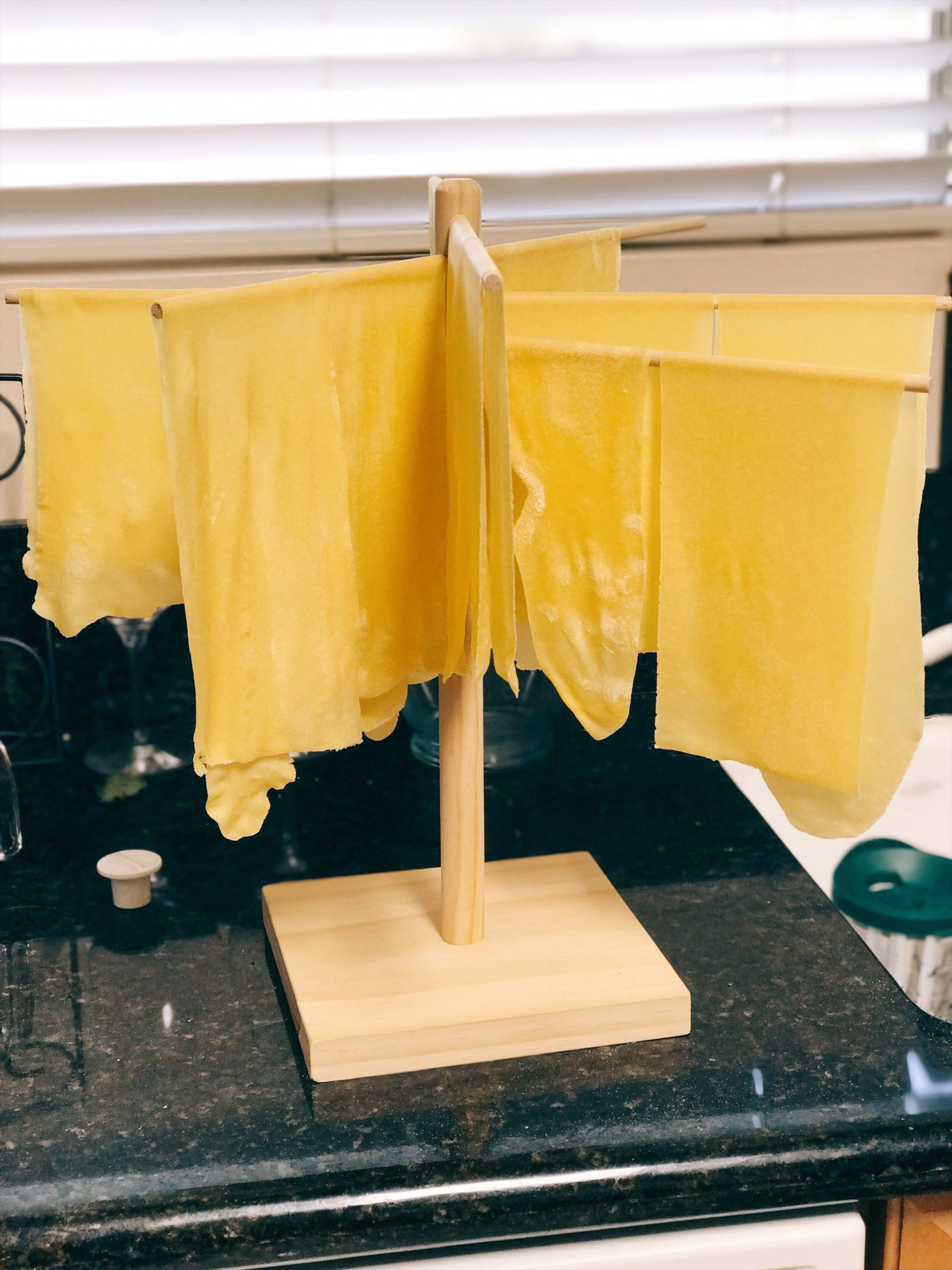 Let the dough dry slightly while you change to your cutting attachment. Run your dough through the blade and let rest until it time to boil!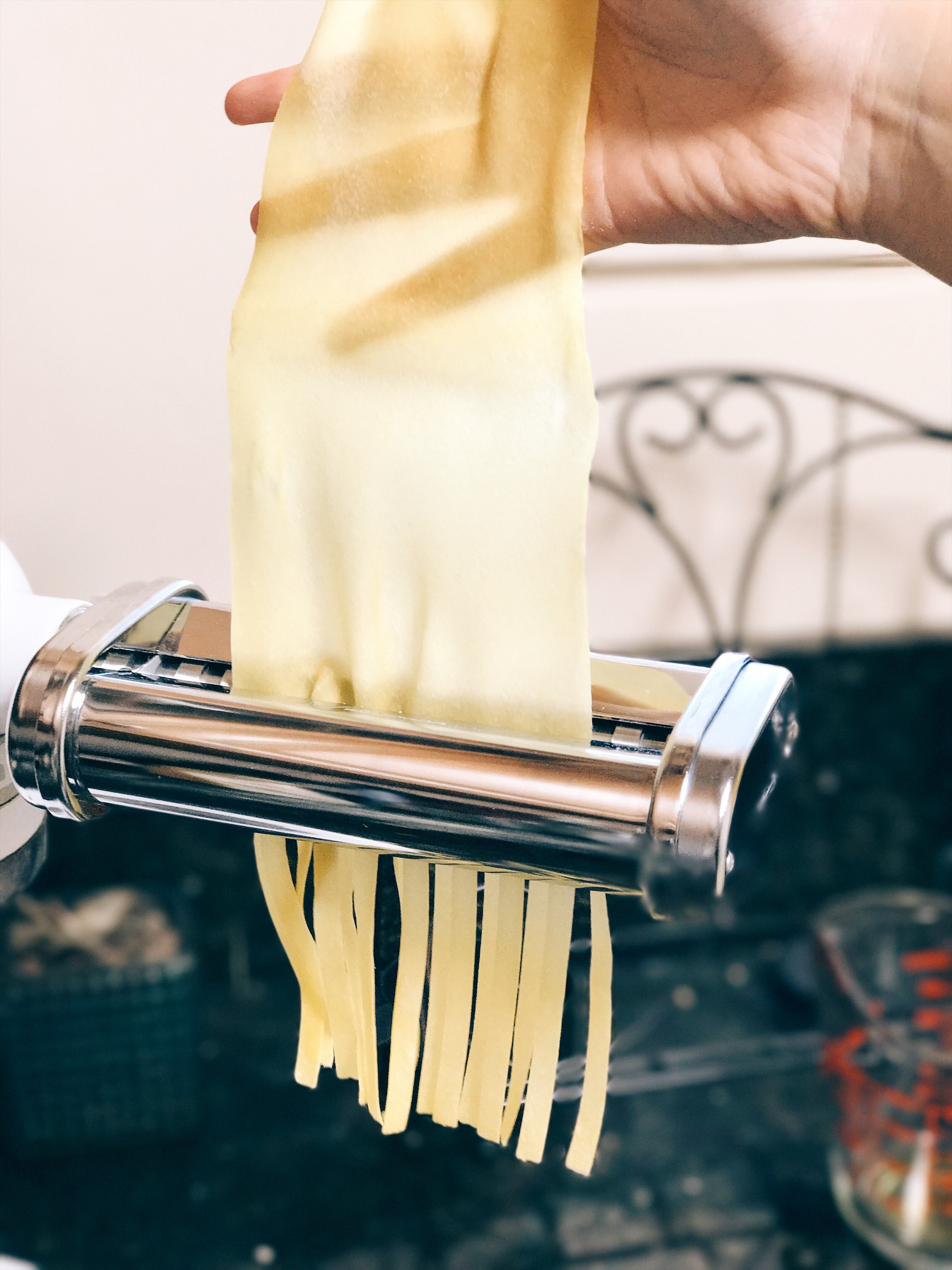 Fresh pasta cooks MUCH faster than dried pasta. You really only need to keep in there for about 2-3 minutes and you are good to go!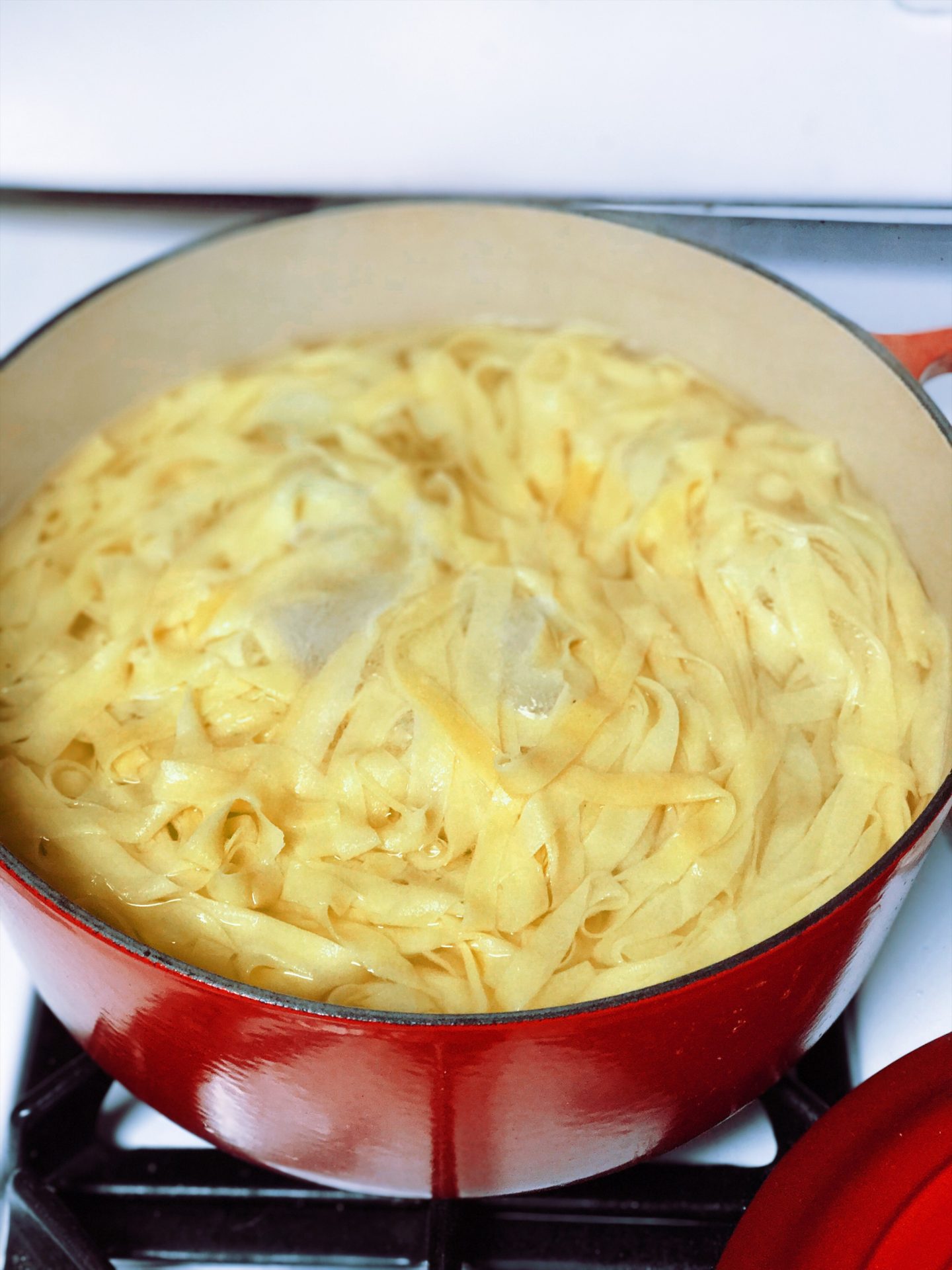 You can use any sort of sauce you want, but make sure to add a little pasta water to the sauce! This helps the sauce and noodles stick together and its delicious! I did a very simple Cacio e Pepe recipe this time which I'll write about another time.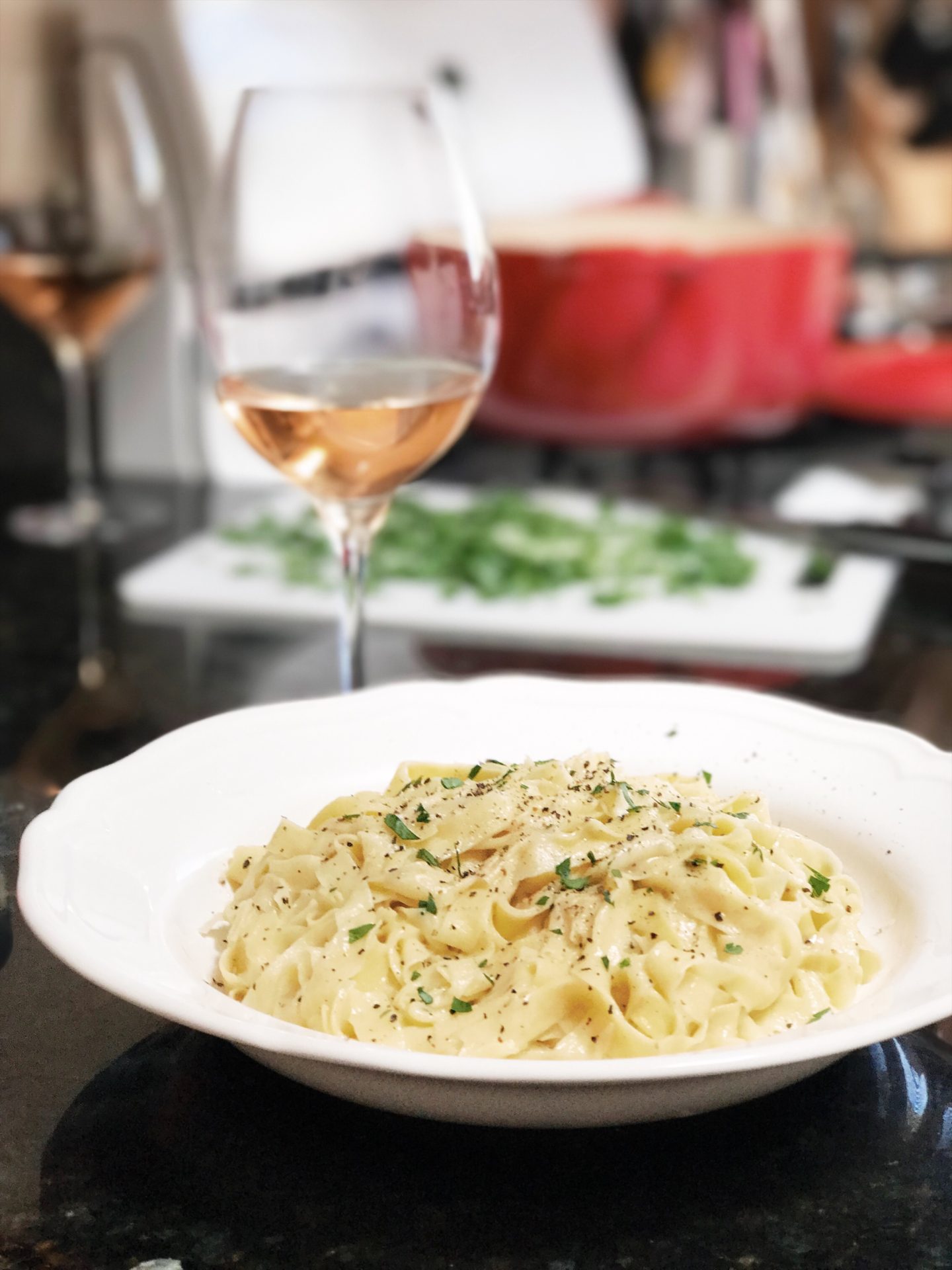 That's it! Not only is making pasta a lot of fun, but you can really taste the difference. Since it's such a small amount on ingredients, make sure that you are using the best quality flour, oil and eggs you can find.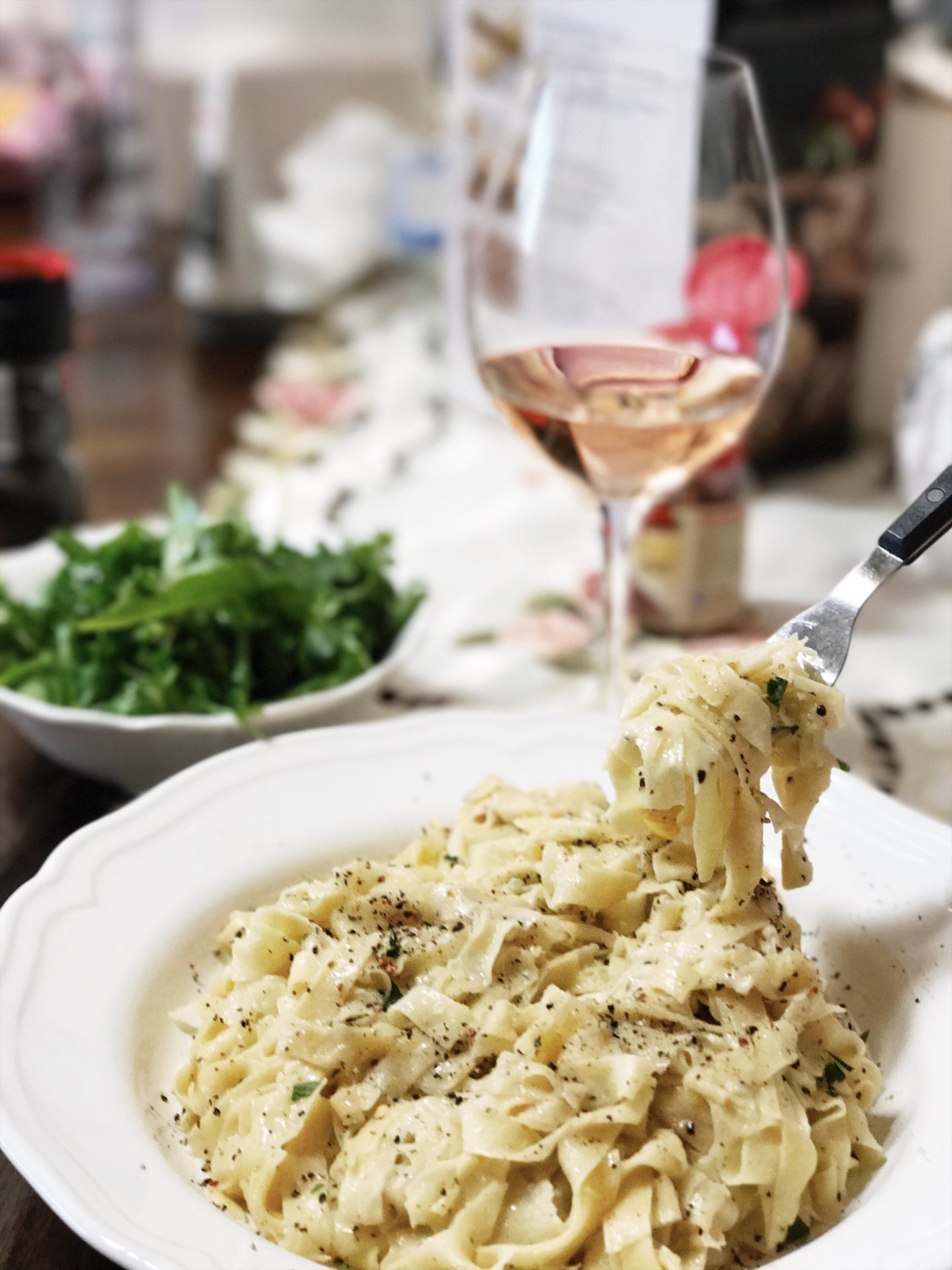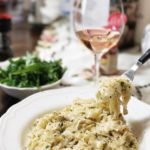 Homemade Pasta
2017-09-27 17:51:15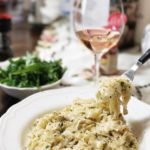 Serves 4
Easy fresh pasta recipe
Ingredients
1 Cup + 2 Tbs 00 Flour
7 Tbs Semolina Flour
9 Egg Yolks
1 Tbs Evoo
3 Tbs Water
Instructions
Mix ingredients in stand mixer until a rough ball is formed.
Knead dough by hand for about 5 minutes until you reach a smooth, silky texture
Cover dough and let rest for 15 minutes
Divide the dough into 4 pieces
Flatten one piece at a time and run through pasta roller on highest setting
Continue to roll dough lowering setting to desired thickness
Let strands dry and attach pasta cutter
Cut pasta and cook in boiling water for 2-3 minutes
Pink & Proper-ish https://pinkandproperish.com/
What do you think? Would you ever try to learn how to make homemade pasta? What sauce would you use? Let me know below!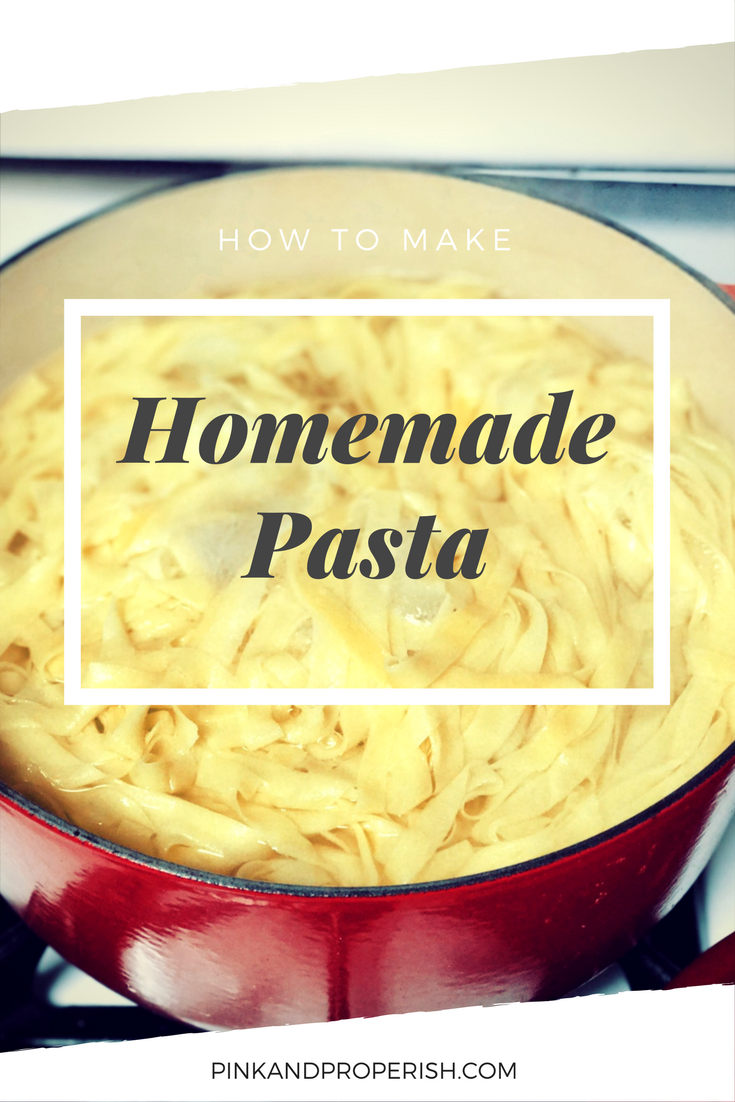 This post may contains affiliate links, which means if you make a purchase by clicking on them, I will receive a commission, at no additional cost to you. That will ensure I continue to bring you valuable content. To read my entire disclosure agreement and privacy policy click here