It's Thursday! There are many benefits to Thursdays. One more day until Friday, some of the best TV shows are on and its throw back Thursday! Perfect excuse to share with you all my roadtrip to the Grand Canyon over the past three day weekend. If anyone is curious, it is possible to stop in 4 states in one day and make it back home before midnight.
DAY 1:
THE LONDON BRIDGE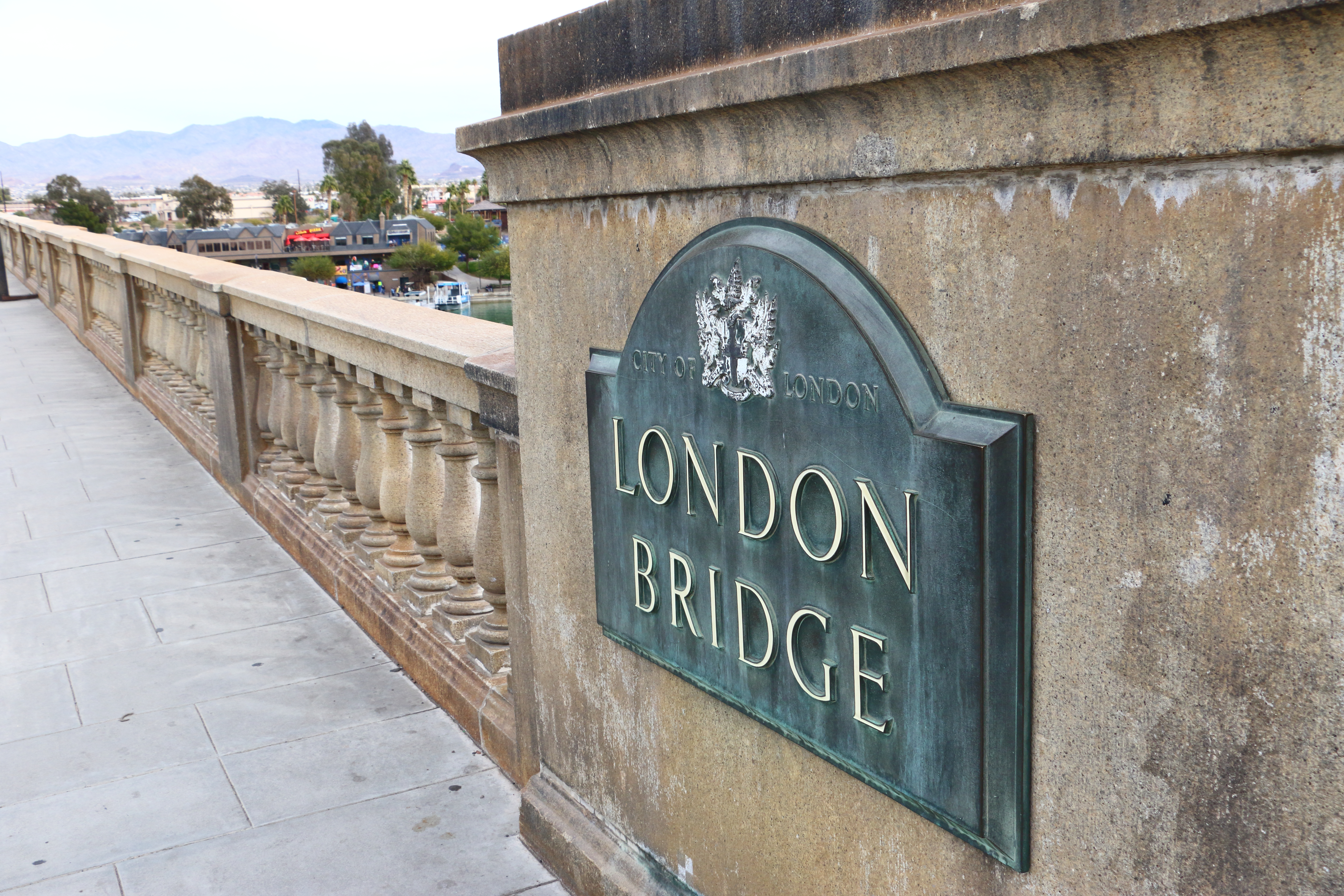 Our journey began (not so) bright and early which got us to Lake Havasu Arizona just in time for breakfast. Why stop in Havasu on your way to the Grand Canyon you might ask? Because that's where the London bridge is! Yep, some rich dude bought the origianl London Bridge and had it shipped to Havasu because naturally that's the most OBVIOUS place for it to be. Anyways, it was a fun stop to get out and stretch our legs. They built a channel especially for the bridge and if you go into the welcome center you might be able to chat with some people that have been there since it was originally built!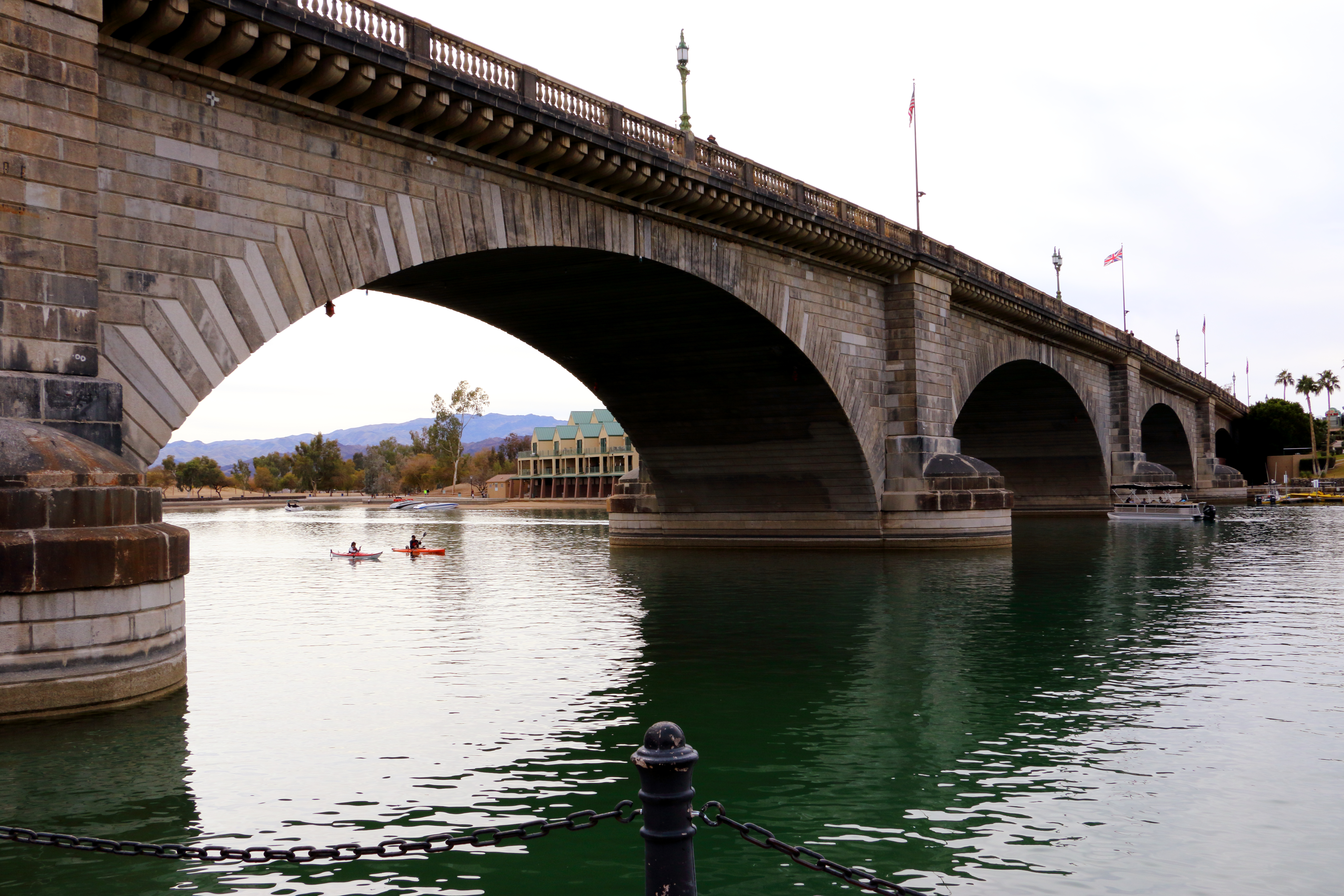 SEDONA
From Havasu, we raced the sun to make it over to Sedona AZ before the end of the night so we could see the rock formations. We went by way of Flagstaff which ended up taking us through a mountain path. If you've ever seen a postcard of this place, you normally imagine bright red rocks and clear blue skies right? It's hard to imagine that it actually snows in a desert. But it does!! And let me just tell you it's beautiful. The snow adds another color to the landscape, making it a very nontraditional winter wonderland.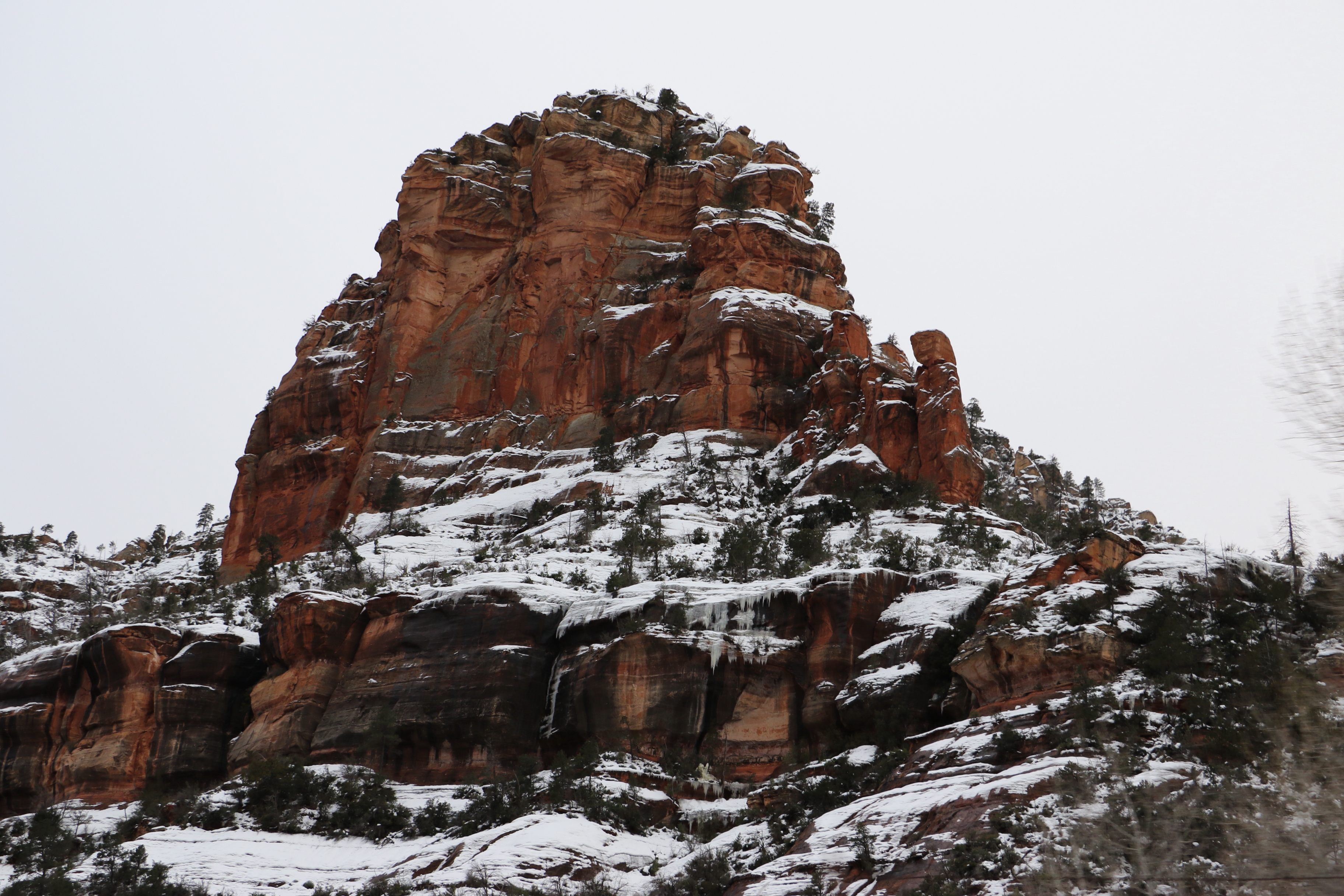 DAY 2:
THE GRAND CANYON
We stayed just outside of the South Rim of national park in the city of Tusayan. Its literally a 5 minute drive into the park from there, so if you plan on a short stay, the rates were cheap and theres a decent amount of food options, so I would recommend it. Be aware that there is a $30 entrance fee to park your car in the Grand Canyon.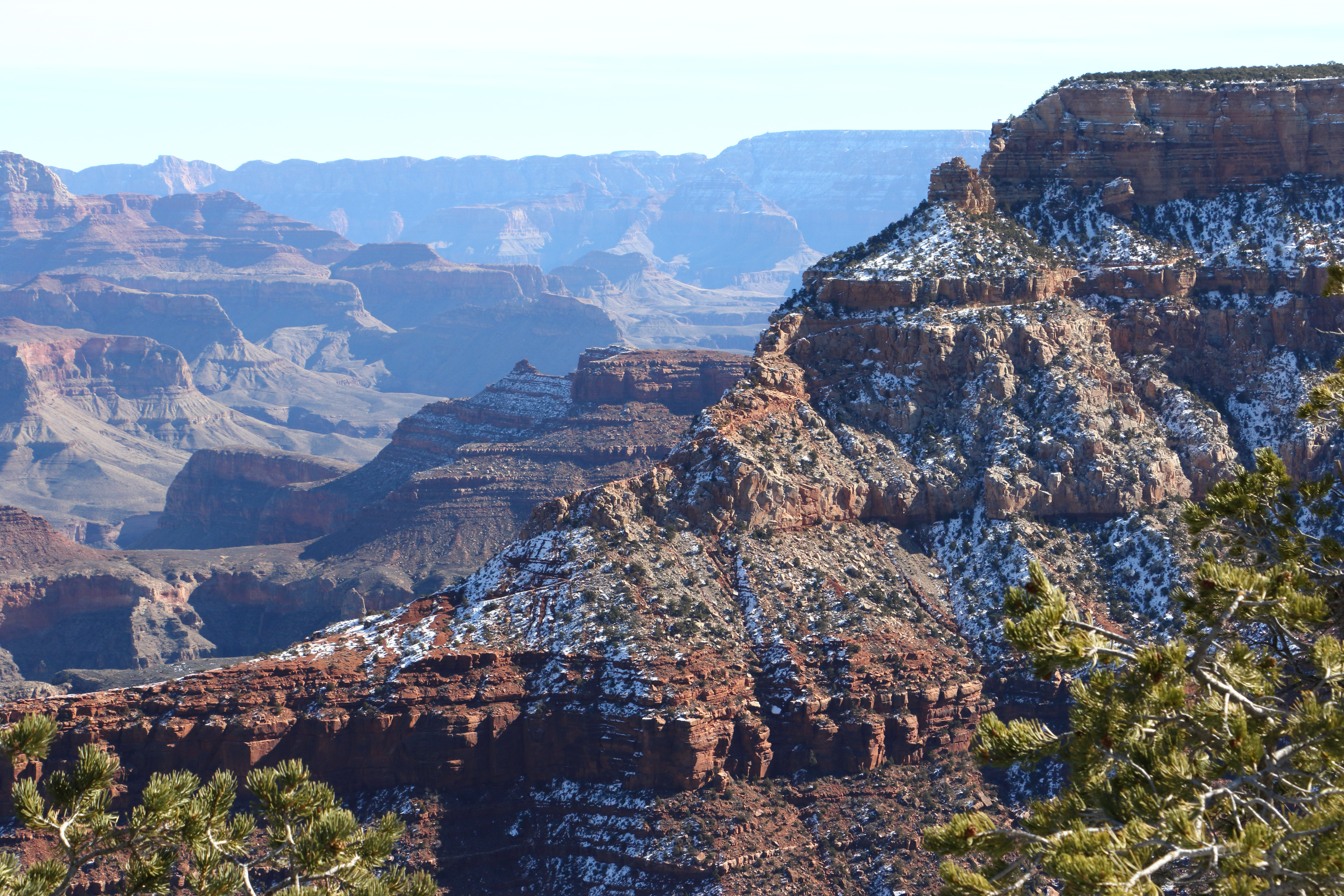 Since there was still a decent amount of snow on the ground, a lot of the trails down into the canyon were closed or only available to experienced hikers with the right equipment. So if you plan on hiking in the canyon itself, winter is not the time to go. There was however, the rim trail which was open all along the south rim for you to explore and lean over the edge to your heart's content.
I'm telling you guys, pictures do not do this place justice. The sheer size of this thing is amazing. My roommate pointed out a helicopter flying through and it looked to be about the size of a dime. It's a humbling experience standing on the edge of something so monumental and realizing how small you actually are.
There are several different free buses that you can take from the visitor's center that will take you to different sections of the rim and drop you off at different viewing points along the rim. We spent most of our day exploring the eastern section of the rim since it was open to vehicles. There were tons of different look out spots, some of which were still dusted with snow.
Kristi and I we're on a bit of a daredevil streak during this trip. It's very hard to NOT sit on the edge of one of the wonders of the world when there's no railings!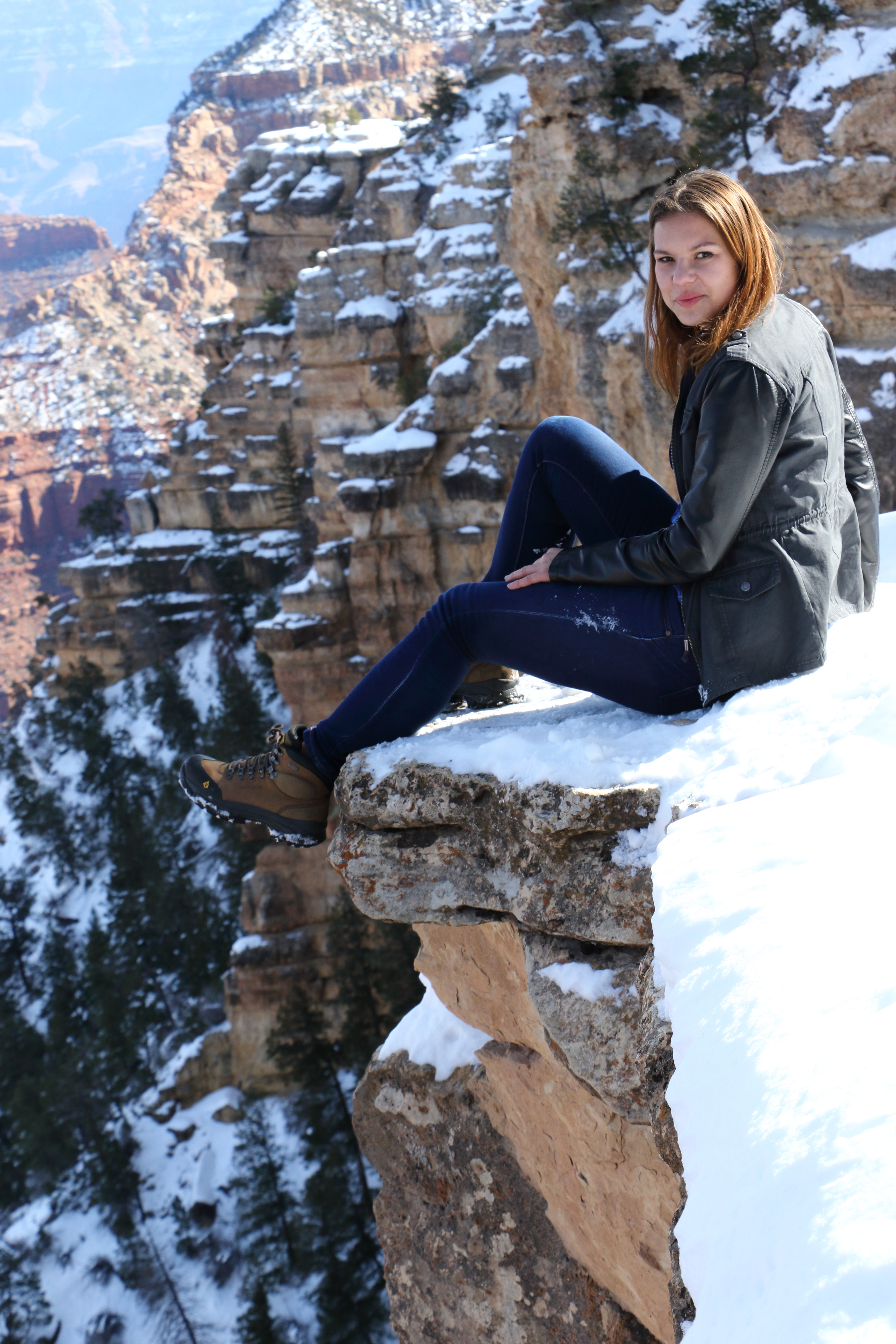 Stay for sunset guys, trust me. Just pick a spot and plant yourself for awhile and watch.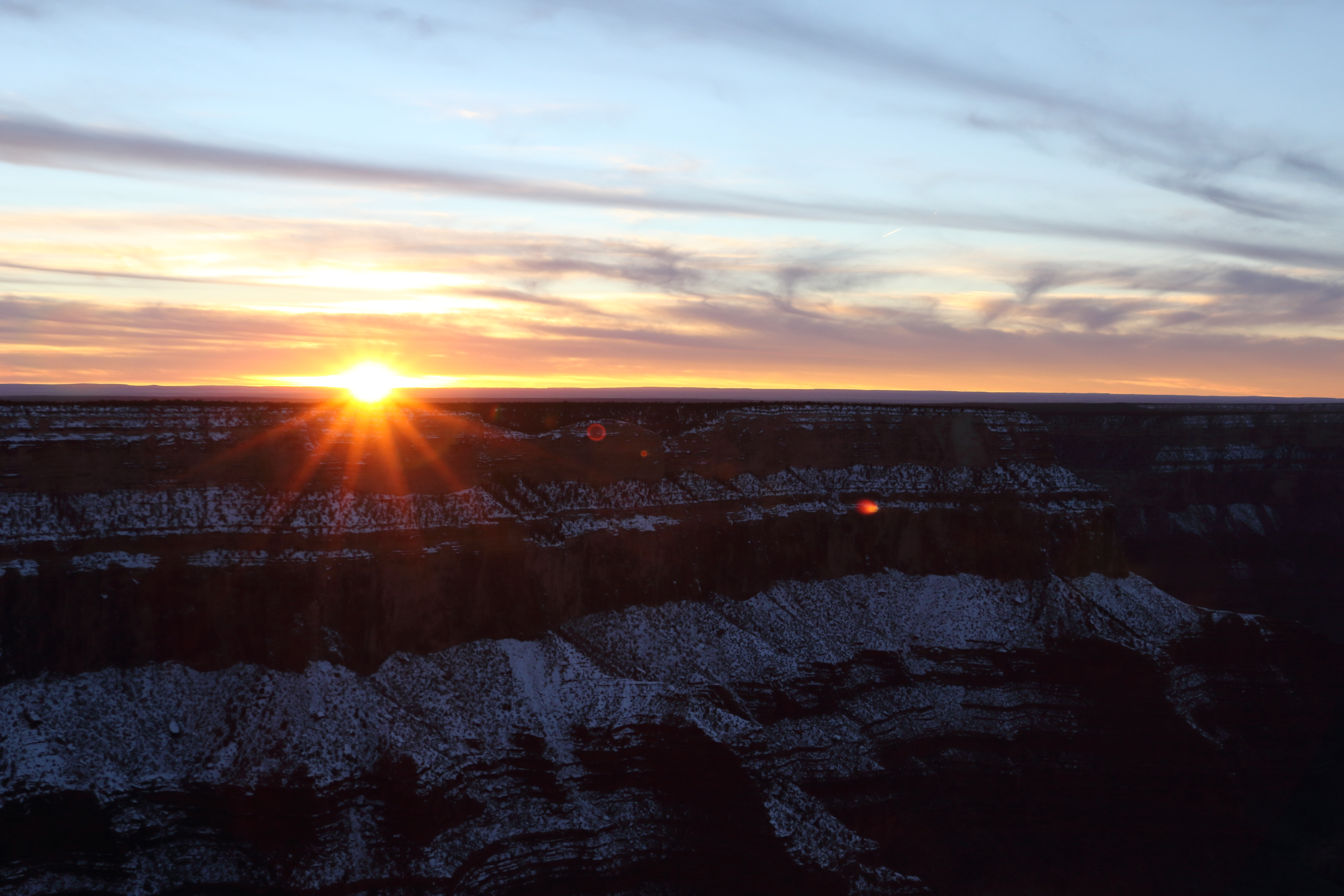 Beautiful right?
DAY 3:
ANTELOPE CANYON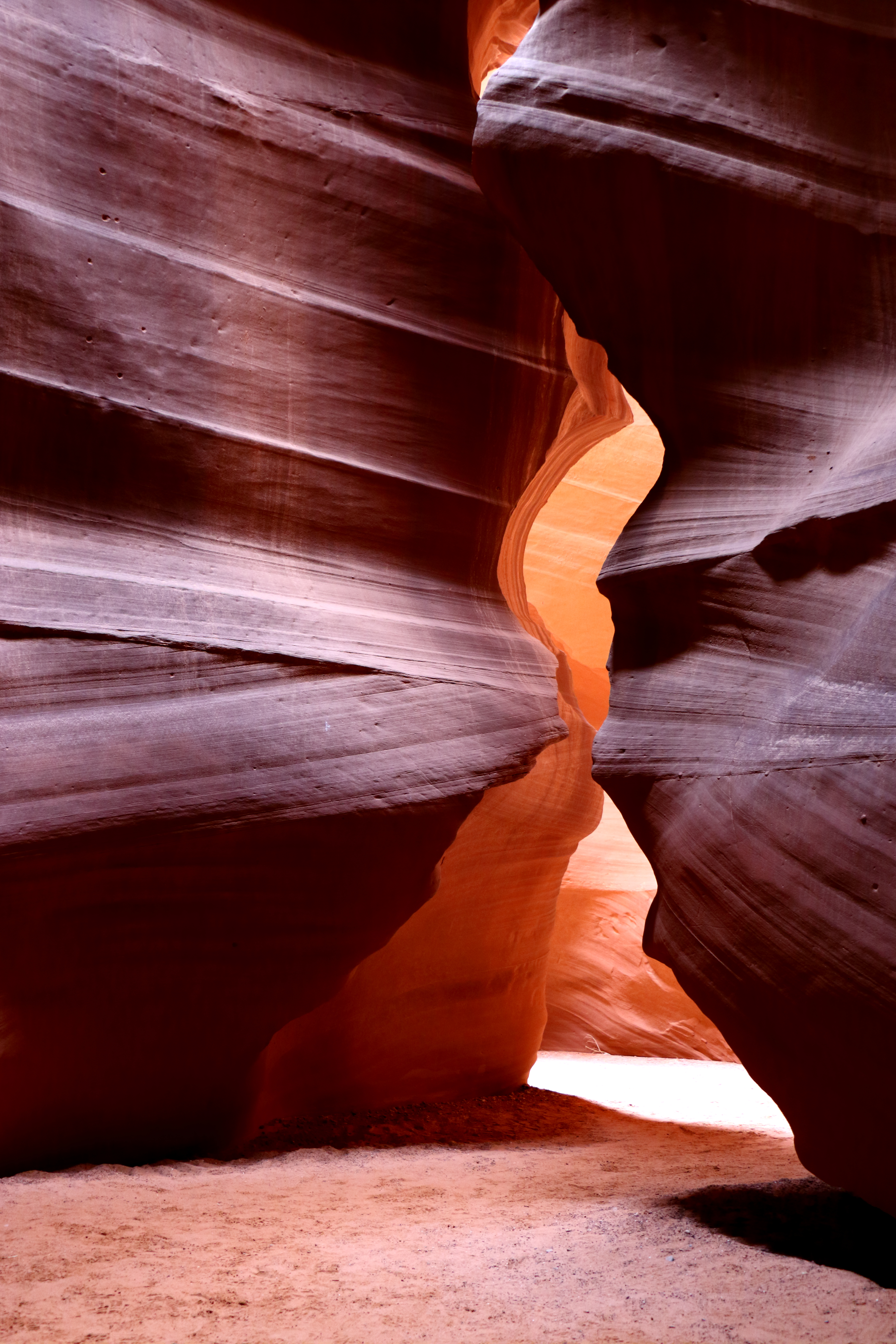 We started off our final day by taking a tour of antelope canyon. If you've never heard of it, I can almost guarantee you've seen pictures of it. The best part is that this amazing place lies on the outskirts of a small little town just a few hours north of the south rim.
Now in order to visit you HAVE to book a tour. There's no other way to access the canyon otherwise. We booked our tour the day before our visit. From base camp, they take you off-roading through a riverbed into the mouth of the canyon. Depending on what time of the day you take the tour, the light will hit the rocks in different places and sometimes turn them different colors. From the outside, you would have NO idea that there were these beautiful caves carved out of the rocks.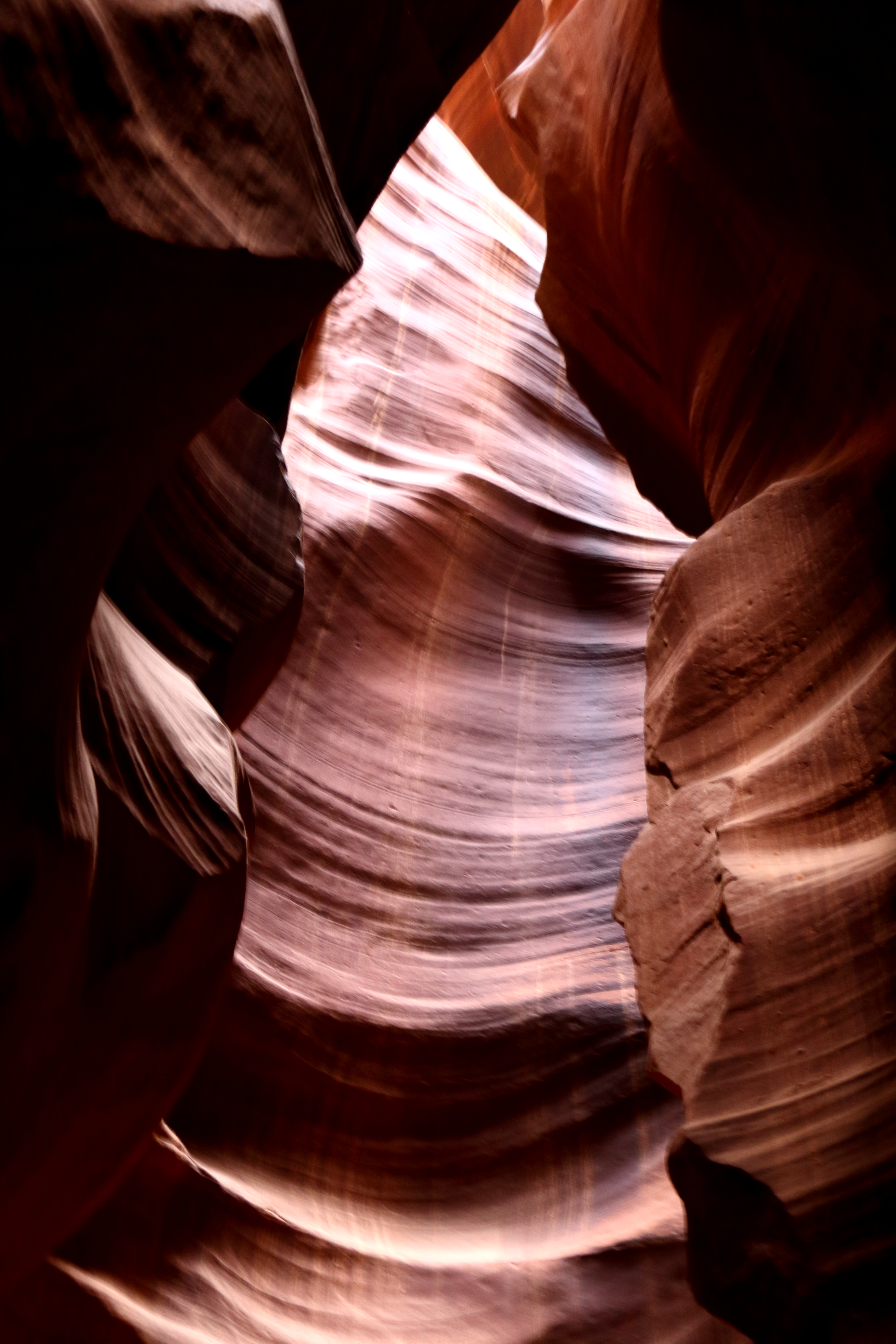 It's about a 3 hour drive from the south rim, but it's so worth the trip. You'll be so happy you did it, trust me.
HORSESHOE BEND
On a whim on our way out of town, we stopped at Horseshoe Bend, one of the most famous parts of the Grand Canyon. From the parking lot, it's about a 3/4 mile hike to the end of the trail where you are faced with the most gorgeous view.
Appropriately named, the Colorado River bends around a huge section of rock, creating the shape of a horseshoe. Let me just say that there are no railings at horseshoe, which is exhilarating and terrifying a the same time. However, I think this was probably my favorite part of the trip. If you're brave enough, bring your lunch and eat on the edge of the cliff.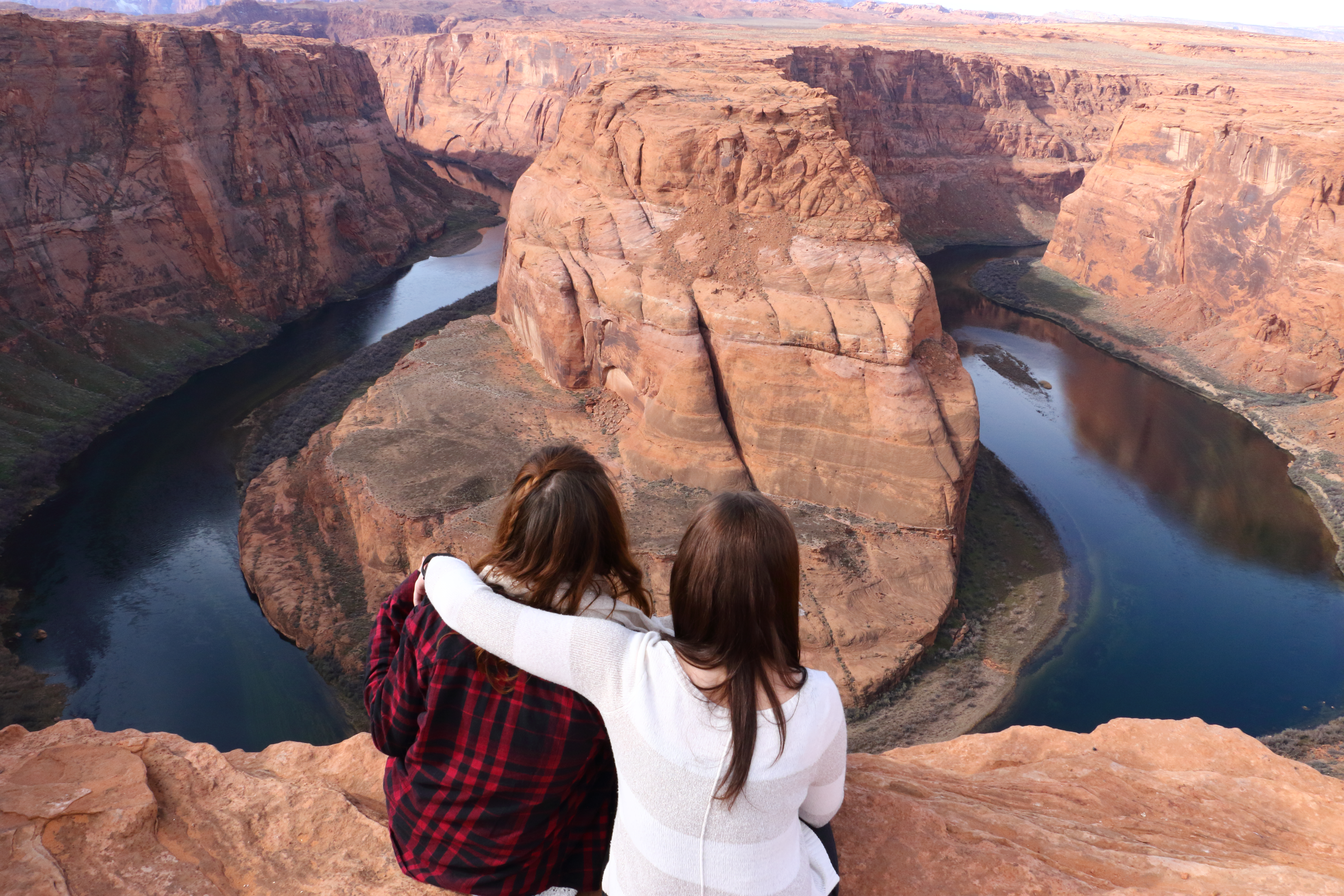 ZION NATIONAL PARK
From here, out journey took us up through Utah where we decided to drive through Zion National Forest. I think I had sensory overload by the time this trip was done. So much beauty in such a small window of time with no breaks to process. We only stopped for about an hour at some different look out points, but Zion is officially on my list to return to. It cost $30 to enter the park, but if you happen to go on a national holiday it's free!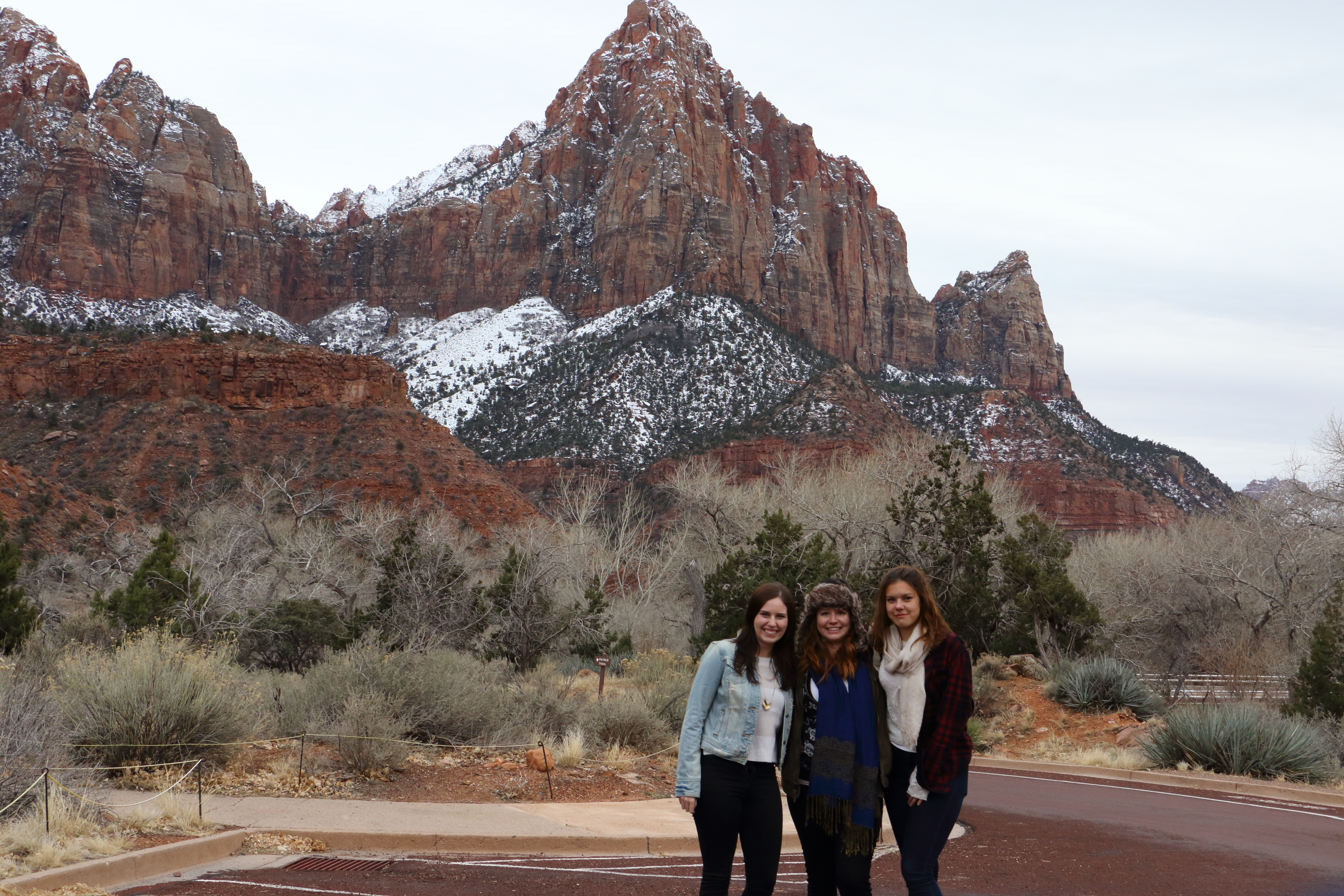 VEGAS
I mean…it was on on our back. How could we not stop?? Our visit was very brief, as we only stopped for dinner, but I had never been to Vegas before so it was fun to drive through the strip and see it in person.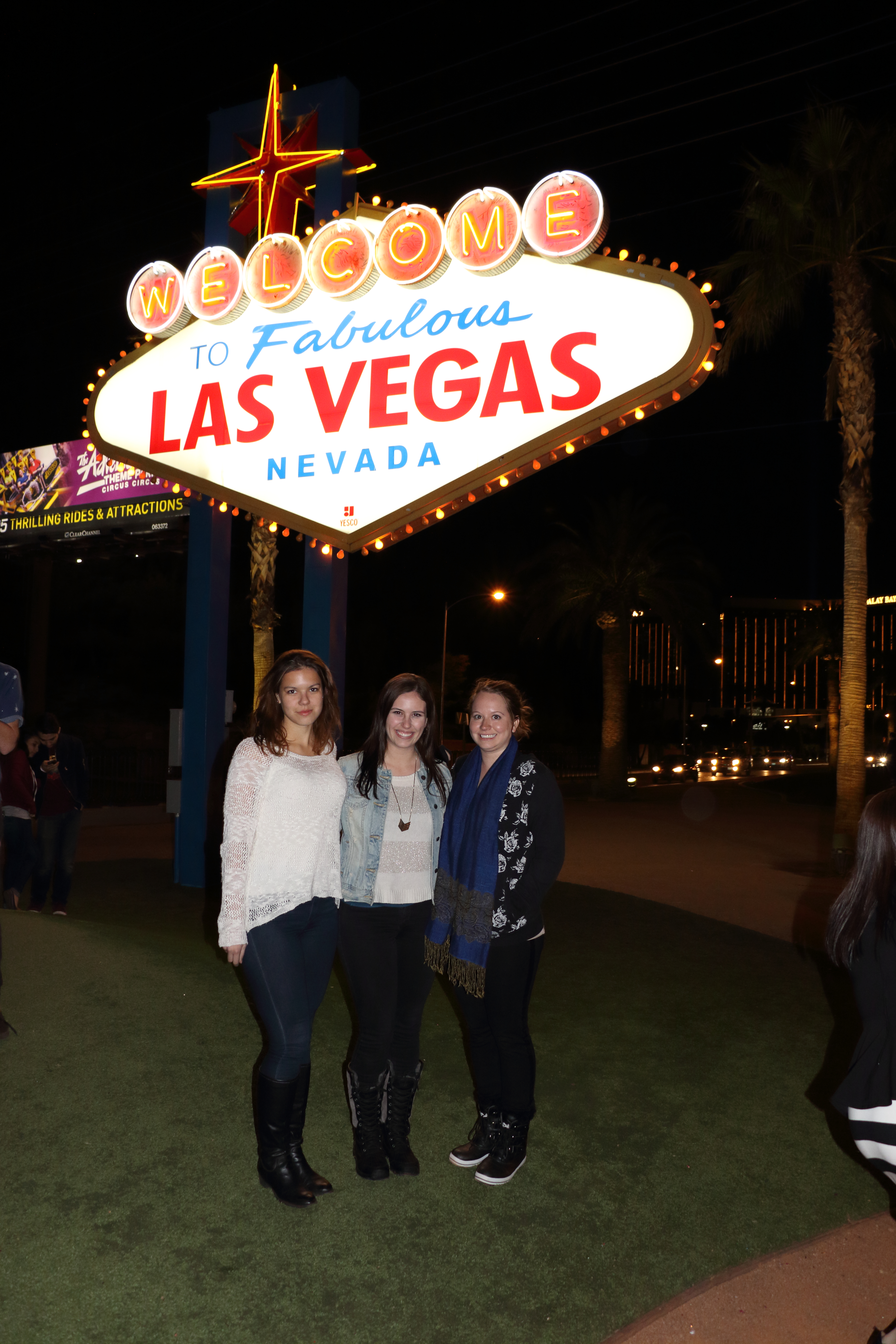 For those of you who weren't counting, yes we drove through 4 states in one day. It was a whirlwind of an adventure, but worth every minute.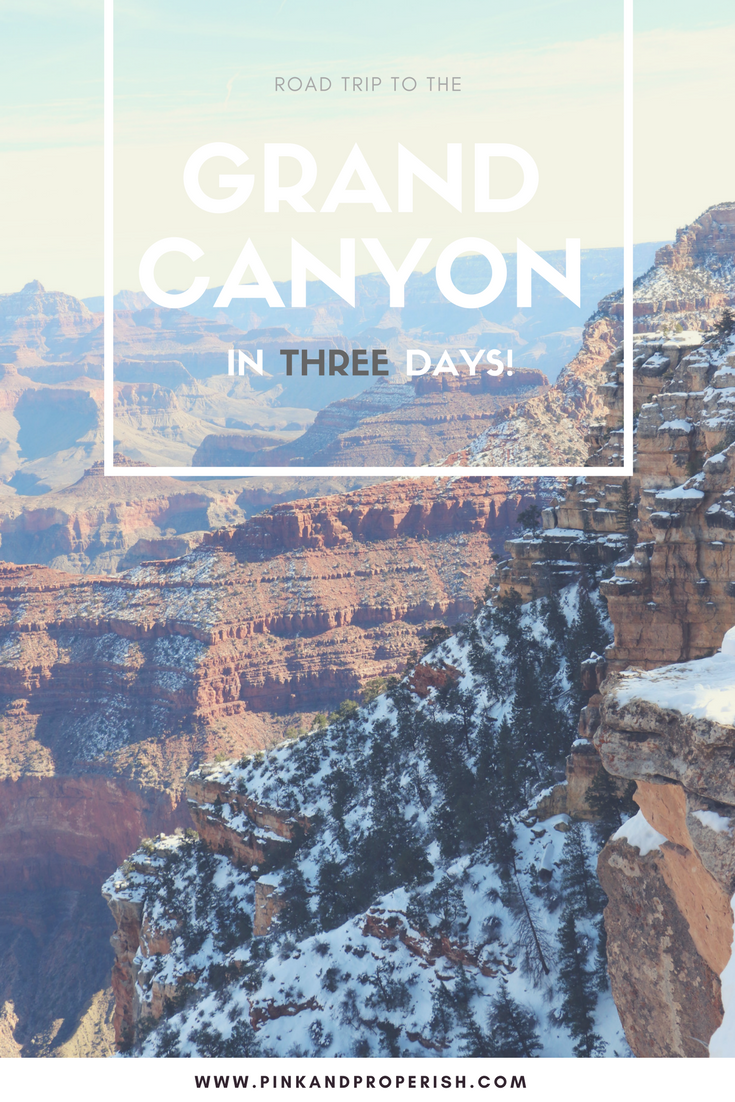 This post may contains affiliate links, which means if you make a purchase by clicking on them, I will receive a commission, at no additional cost to you. That will ensure I continue to bring you valuable content. To read my entire disclosure agreement and privacy policy click here